So, you're getting married and the customary silk and lace long bridal gown isn't your style? Or maybe white just isn't your colour? Did you swear to yourself that you would never ever wear taffeta on your wedding? (Who could blame you?) Besides, you've always had a fantasy of getting married dressed as a pirate queen! Every bride has a vision of the perfect dress, some traditional, some quite bizarre. Here are a few ideas for what we think would be make for some very cool couture wedding dresses.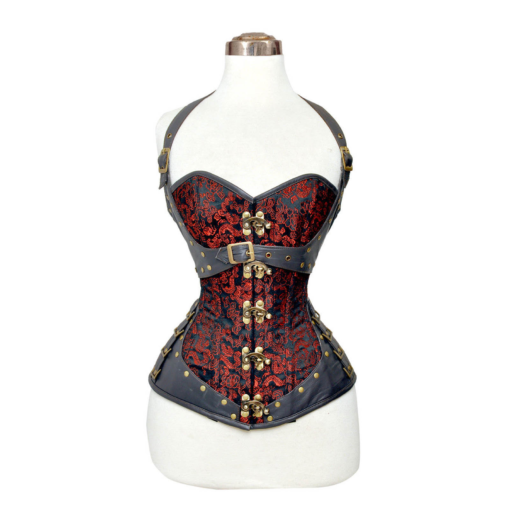 Steampunk Bride
You may like the idea of lace and corsets in couture wedding dresses, but with an edge. After all, you might look like a delicate fairy princess, but you can kick ass with the best of them! Plus, no way are you giving up your boots. Is it a salute to the past or a portent of the future? A custom-tailored coat over a distressed lace bridal gown, a hand-stitched leather corset, heavy clockwork jewellery, and metal body armour–go wild! Practically anything goes for the steampunk bride Steampunk Corset. She, like her one-of-a-kind gown, is both romantic and hardcore, unique in every way, and ready for any occasion. Hit vintage stores and specialty shops for ideas before presenting your sketch to your dressmaker/designer.
Beach Babe
For lovers of the sun and the sea, what could be better than catching a few waves right after saying 'I do'? A delicate maillot and wrap-inspired ensemble would be perfect for a seaside wedding, showing off your beautiful holiday tan. Or consider an intricately beaded sarong over a daring bikini. You could perhaps design a whole trousseau around this theme if you decide to spend your honeymoon near the beach. You won't even need shoes!
High Fantasy
Ever wanted to dress up as an angel, a fairy, a warrior princess, or an alien empress? What better occasion than your very own nuptials? You may need to do a bit of research, though, to figure out how to execute complicated designs when it comes to high-fantasy couture wedding dresses. Check out costume shops and fantasy bookstores, along with traditional bridal shops, for ideas.
With the help of capable and experienced professionals such as designers and dressmakers, couture wedding dresses can be made in any shape and colour and to fit any occasion and any bride–the only limit is your imagination! And don't worry, many bridal shops and designers would be thrilled to customise their products and services to fit your theme. If there is one thing bridal professionals agree on, it's that it's the bride's day and she should get everything she wants!
Small or massive, simple or lavish, conventional or modern, customs may be different all over the world, but they always share one thing in common: at the centre is you, the bride, radiant in a gown that reflects your uniqueness and personality.